Medically Reviewed by Dr. Mohammed Saeed, MD.
We've written before on the opioid epidemic several times, and all of it is a concern, but nothing is more of a concern than drug addiction signs in children. Just remember, when you're raising a child, one of the more important things to be concerned about is the answer to the question: "Is your child on drugs?" According to ASAM (American Society of Addiction Medicine), the use of both illegal and prescription opioid abuse has increased almost every year this decade.
While the statistics show that the largest increase in heroin use is among the older generation (40+ age group), it still shows a significant increase in younger people, enough of an increase to cause any parent concern. That's why parents need to be aware of drug addiction signs in children.
Is Your Child on Drugs?
If you're thinking you have nothing to worry about because the statistics show that the older age group is the one harming themselves — think again. Below is a chart from Business Insider showing overdose deaths by age groups.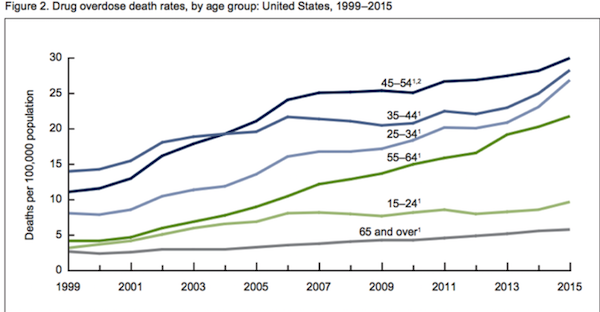 Wondering the question "Is your child is on drugs?" is something almost every parent asks themselves once children hit the teenage years. Despite what you may think, that's being a responsible parent. Because of the prevalence of drug use in today's society, every parent should be asking "Is my child is on drugs?" They should routinely do a search and type in "drug addiction signs in children." Getting back to the chart, it shows that youngsters have one of the lowest rates of increased deaths, but that's still not good. It amounts to tens of thousands of children — young lives that will never be developed.
There Isn't Much Worse Than Seeing Drug Addiction Signs in Children — Especially in Your Child
There might be nothing worse in life — with the exception of a loved one's death — than a child on drugs. But even death fades with time; the effect of addiction lasts as long as the drug use does. Many parents and/or spouses want to know the telltale signs of drug use, or at least they say they do. When I was raising children, the one question that nagged at me more than any was — "Is my child on drugs?" How about you? Is your child on drugs? You need to be sure.
Drug Addiction Signs in Children
Now we get to the meat of the article. What are some signs of drug use in children? You'd think you should be able to tell if your child is doing something, but determining if your child is on drugs Isn't so easy. You may think you have a good relationship with your child but think about it for a moment. If you ask them if they're using drugs they'll say no if they aren't, and they'll say no if they are.
At first, you want to believe them—give them the benefit of the doubt. You don't want them to be on drugs, because, somehow, that seems like your failure. When they lie to you — and they will lie — your tendency is to believe them. You may ask yourself—How can your child be on drugs? He/she is good. They'd never do that. Something else might be going on, but they're not on drugs! Open Your Eyes These are some things to look for. As with any potential problem, the symptoms can be explained by many things, and any one of them is not cause for alarm. But lump a few symptoms together, and all of a sudden you have a different story.
The first signs to look for when you seek the drug addiction signs in children are the physical signs. They may be the easiest to spot.
Physical Or Evidential Signs
bad grooming.
unexplained injuries.
slurred speech.
falling asleep while sitting up.
unexplained sleepiness.
a change in appetite, or rapid weight loss or gain.
nosebleeds could be an indication of cocaine use.
slip in grades at school.
unexplained absences at a job.
an unusual number of doctor visits.
Any one of these does not necessarily indicate a problem, but if your child begins nodding off while at the dinner table, or is shunning the dinner table altogether, you may have something to worry about. None of these symptoms by themselves are guaranteed signs of drug use, but if you notice several symptoms over a prolonged period, then it's probably an indication that your child is on drugs.
Psychological Signs
Drastic attitude changes.
Mood changes.
Paranoia.
Withdrawn and shunning family activities.
No motivation (aside from normal teenager behavior).
Trouble with the law.
Nothing is his/her fault.
Trouble at school.
Missing school.
Drastic change in hobbies or sports activities.
Change (as in genre change) in music etc.
New friends (especially if they are ones you don't like).
These are the kids you raised. It's only natural to want to believe them. The trouble is, it's not helping them to believe.
You need to be skeptical.
You need to be leery.
You need to not believe.
The signs of drug use we mentioned are generalized symptoms, and they can be explained by many things — but don't ignore the signs. The chances are, if you see the signs of drug use, there is a problem. Your gut will tell you. "Is your child on drugs?" is a question that needs to be answered honestly. Remember that feeling your mom, or somebody, might have told you about when you were a child — that if you're about to do something wrong, you'll get a bad feeling in your gut? The same applies here. You might not want to know if someone you love is on drugs, but deep down inside, you know. And you need to do something about it. I know that the child sitting across the dinner table is not someone you want to be on drugs, however, you'll know if they are. You may want to deny it — hell, there's no doubt you'll want to deny it — but don't. It hurts them more if you deny them the help they need.
If you're already asking yourself the question — "How do I know if my child is on drugs?" or if you're looking for signs of drug addiction in children, then your gut is likely already telling you—you may have a problem.
So, what do you do when you face that? Here are a few things not to do.
What Not to Do
Do not give them money
Do not cast blame somewhere else (or let them cast blame)
Do not coddle them and tell them things will be all right — they won't.
Remember, the only way someone is going to get help is when they are willing to take direction.
Help Is at Hand
The good news is that there is light at the end of the tunnel. Help is available. At Into Action Recovery Centers, we specialize in helping people "kick the habit," especially people who have not been successful elsewhere. We have a staff that has been through it, and we have medically trained personnel on hand 24/7 in case of emergencies. We also have a medical director on site. Don't wait another minute. Pick up the phone and give us a call (844) 694-3576 or fill out a confidential inquiry form, and our knowledgeable staff will get back to you to arrange for a confidential consultation.

Fill out a confidential inquiry form, and our knowledgeable staff will get back to you or call to arrange a confidential consultation: (844) 694-3576
You Might Also Like: